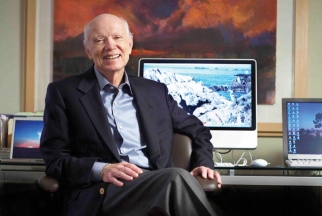 Regis McKenna Is Speaking To the Advertising Students at St Clair College
Each year, the faculty in the Advertising Program at St. Clair College works to bring in a guest speaker to speak with all of the students in the program. This year, we are proud and excited to announce that Regis McKenna will be speaking with the students on Thursday, October 8th at 1:30pm. It will be a video Skype lecture from his home base in San Jose, California.
According to Wikipedia, He has been called "Silicon Valley's preeminent public relations man," a "guru," a "czar," a "philosopher king," a "legendary marketer," & Apple's "marketing guru". He is a marketer who introduced many of the ideas that are now part of the mainstream in technology marketing and who helped launch some of the major technical innovations of the computer age, including the first microprocessor (Intel Corporation), Apple's first personal computer (Apple Computer), the first recombinant DNA genetically engineered product (Genentech, Inc.), and the first retail computer store (The Byte Shop).
We are very excited to have a speaker of his caliber speaking to and taking questions from our current students. It is not too often that a school in Windsor, Ontario has welcomed a guest speaker whose experience includes creating Apples logo and launching the world's first personal computer!
We are expecting a full house for this guest lecture. From the moment we internally announced Regis's confirmation, the advertising faculty has fielded inquiries from students as well as industry professionals for seating availability!
From our student's perspective, they are viewing this as a fantastic opportunity. When else will they have a chance to "pick the brain" of the man who worked closely with Steve Jobs & Steve Wozniak, whose firm designed the Apple logo and put together their advertising campaigns.
In addition to being an important part in Apple' early success, Regis has worked with companies such as America Online, Compaq, Electronic Arts, Genentech, Intel, Linear Technology, Lotus, Microsoft, National Semiconductor, Silicon Graphics, and 3COM. He has advised Bill Gates, authored multiple books and articles and is largely credited with defining "Real-Time Marketing".
Check out a few of the early pictures of Regis McKenna here (http://www.corbisimages.com/Search#p=1&q=regis+mckenna). We could not list them in this post due to licensing restrictions. Can you identify a few of people in the photos?
You can also learn more about Regis by visiting his official website (http://www.regis.com), and his Wikipedia page (https://en.wikipedia.org/wiki/Regis_McKenna).
Watch Steve Jobs Talk About Regis
We were sent this video and have decided to feature it on this post. As it is an older video, we are unsure as to where it was first aired or who owns the copyright.
We would like to thank Mr. McKenna for his generous giving of his time and resources and look forward to hearing him speak live on October 8th. We will also be posting a follow-up to the lecture and possibly some video interviews from Regis and a few attendees!