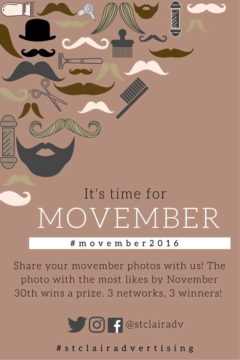 It's Time for Movember!
What is Movember?
Movember is not only about growing an awesome stache, it is also about raising awareness for men's health issues with the main goal of stopping men from dying too young. A pretty awesome goal if you ask us, and The Fizz Ad Agency is proud to announce they are having a contest for the best stache of Movember 2016!
Below are the rules for Movember as well as how to enter the contest.

Rules for Movember (based off of the official Movember rules)
#1 To register each Mo Bro must submit a picture of their clean shaven face.
#2 For the entire month of Movember each Mo Bro must grow and groom a moustache.
#3 Don't fake it. No beards and no Goatees. Mo Sistas are encouraged to post pictures with fake moustaches to show their support.
#4 Use the power of the moustache to create conversations about men's health.
#5 Each Mo Bro must conduct himself like a true gentleman.

How to Enter
To enter the contest all you have to do is post a picture of yourself with a clean shaven face to at least one of the three social media accounts below with the hash tag #Movember2016 and #stclairadvertising. For more chances to win post a picture on all 3! The sooner you submit a picture, the sooner you can start growing!