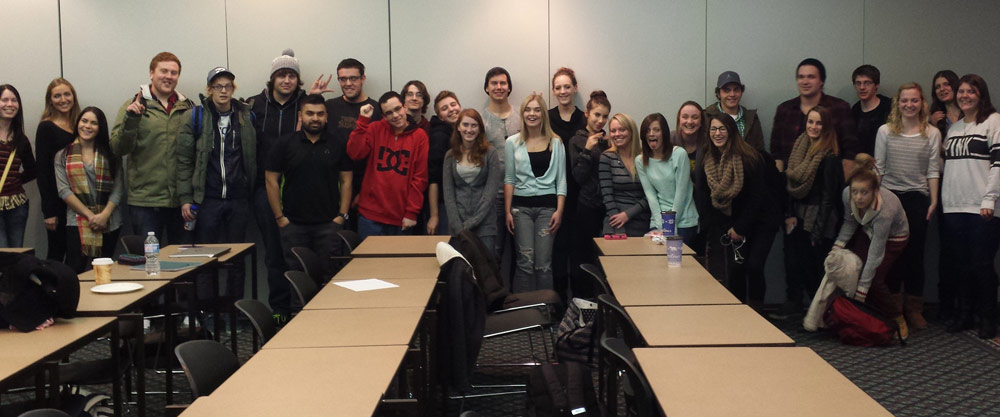 WHY CHOOSE ST. CLAIR COLLEGE'S ADVERTISING PROGRAM?
St. Clair's Advertising & Marketing Communications Management program has a lot to brag about. Our students outperform – having won more advertising competitions than any of the other Ontario advertising school. We pride ourselves on the 90% employment rate that our graduates enjoy within 6 months of completion. The Interactive Advertising Bureau of Canada calls ours "the most up-to-date curriculum of any of the Ontario advertising schools."
IS THIS PROGRAM FOR YOU?
But enough about us, this is about you. Why is all of this good for you? Because you never miss an episode of Mad Men. Because you are a creative thinker and a problem solver. Because you write, design, and spend hours on interactive media. If this sounds like you, St. Clair's Advertising & Marketing Communications Management program is for you.
THE BEST OF THE BEST!
The highly experienced faculty offer students the best in marketing and advertising training. Students will learn: the Business of Advertising and the Psychology of Advertising, Principles of Marketing, Layout and Design, Print Media, Digital and Web Design and Copywriting. You will be developing complete and integrated plans and programs in: marketing and communications, advertising, promotions and public relations, event planning, business and creatives in both the traditional and web arenas.
As if all this isn't enough, we also arrange a month-long work internship for you. Plus, should you be interested in further education, your credits can gain you standing at various universities including: Athabasca, Wilfrid Laurier, Davenport, Windsor, Wayne State and Griffith.
PROGRAM OVERVIEW
To provide our grads with the best and most up-to-date advertising and marketing communications skills of any advertising school in Canada.
Faculty have experience as senior advertising executives at major international and national companies.
The most up-to-date curriculum of any advertising program in Ontario.
Students will develop complete advertising and integrated marketing communications plans and programs, from the business planning stage to the final preparation of creative materials.
PROGRAM HIGHLIGHTS
Our students have won more gold medals in Advertising and Marketing Communications competitions than any other College in Ontario.
We arrange a four week internship for all students.
Note: Participation in internship may be restricted for students not meeting minimum internship requirements.
Nine new Internet marketing courses.
Emphasis on solving real advertising problems and developing real advertising materials.
The Interactive Advertising Bureau of Canada will award each student the IAB Internet Master's Certificate, an added value of $2500.
EMPLOYMENT OPPORTUNITIES
There are so many different career paths when you graduate that we can't list them all. But here are some of the more popular ones our program can offer you: digital media, social networking management, account management, copywriting, event planning, media planning and buying, public relations, Internet marketing and advertising, consumer behaviour, relationship management and many, many more. It's no wonder that 90% of our grads are employed within 6 months, pursuing careers in Windsor, Toronto, Vancouver, Calgary and many more.
DEGREE COMPLETION
Athabasca University: Graduates may be awarded up to 60 of 120 credits towards a BA.
Griffith University, Australia: Graduates may complete a Bachelor's Degree in 2 semesters.
ACCELERATED TRANSFERS
Students who have successfully completed a related program at the college, or have a university degree in Business/Marketing can apply for credit transfers to accelerate the time necessary to acquire their advanced diploma. Applicants must contact the Program Coordinator before applying.
YOUR INVESTMENT
Fees are subject to adjustment each year. The fees for the current academic year are as follows:
Total 1st Year Tuition and Compulsory Fees:
$3,460.75
We recommend that students have home access to a laptop or desktop computer.
Texts and other materials: $250 to $500 per semester.
Internship:Costs for four weeks accommodation and travel and pre-internship interviews for students who wish to intern outside of Windsor are borne by the student.